We're excited to announce our new EP, entitled Bangin' and Clangin'! It's a five-song collection of original and traditional tunes, with some New Orleans jazz spice thrown in — complete with horns and drums. We'll be celebrating with shows in Lexington 2/28 and Louisville 3/1. Come grab your copy then — on CD or colored vinyl with digital download!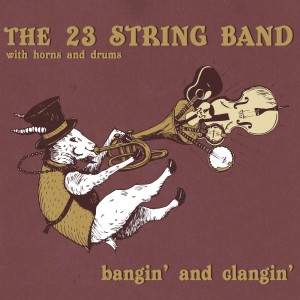 The summer and fall of 2012 saw a new milestone for us: the Back Porch Sessions in Louisville. Four months, four shows, a bevy of special guests, and hundreds of fans combined to make our residency a truly amazing experience.
We had a fiddle-fest with Cheyenne Mize, and a seat-of-the-pants jam with Ben Sollee. Bluegrass met hip-hop in a huge way when we hosted Jalin Roze, Freakage, and Casey Driessen. And we threw an insanely fun Halloween bash, featuring Houndmouth, Patrick Hallahan of My Morning Jacket, Scott Carney of Waxfang, and our very own three-piece horn section.
This recording is some of the fruit that grew out of that fertile ground.
We brought some talented friends into the studio with us for a spring afternoon — nine people in a beautiful room, having fun and playing music together. It was all pretty last-minute, and we weren't sure what to expect . . . but we think we ended up with magic. Here's hoping you have as much fun listening as we did making it!