Well, it's a glorious "Indian summer" here in the Commonwealth, and the leaves are as beautiful as they've been in a long time. It's been a wonderful and momentous year for our band, and we intend to celebrate it all this Saturday, October 27, with our last show of the year. That's right: it's the final installment of the Back Porch Sessions, our residency at RYE in downtown Louisville.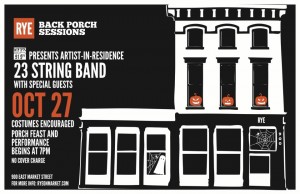 The free, all-ages show will feature a ridiculous lineup of very special musical guests, including one of the area's most unique and talented electric guitarist-songwriters; a world-renowned drummer; one of the hottest young alt-rock bands around; and some righteous horns. We'll all be joining forces for a gigantic ball of fun!
This series represents an effort to bring together talented and unique artistic voices for experimentation and collaboration, in a low-pressure, high-quality alternative setting.
It's been co-curated and hosted by yours truly, and represents another humbling, thrilling achievement for our band in a year full of milestones. Other highlights include a well-received, widely played new album, Catch 23; performances at festivals and venues from North Carolina to Montana, including Rockygrass, ROMP, and the Master Musicians Festival; an official showcase at the IBMA conference in Nashville; a cameo spot in an upcoming film; and February's sold-out show with the Del McCoury Band. Whew!
For this month's event, the band will be playing at least a little on the Halloween theme, while going for a lively, fun vibe, complete with costume contest.
We've been joined throughout the series by Ben Sollee, Cheyenne Marie Mize, Jalin Roze, and Grammy-nominated fiddle player and composer, Casey Driessen, among others, and we're expecting this show to be the biggest and best yet.
Music begins around 7pm, and coincides with a delicious feast, so come hungry! (Don't worry, you'll end up dancing it off later in the night!)