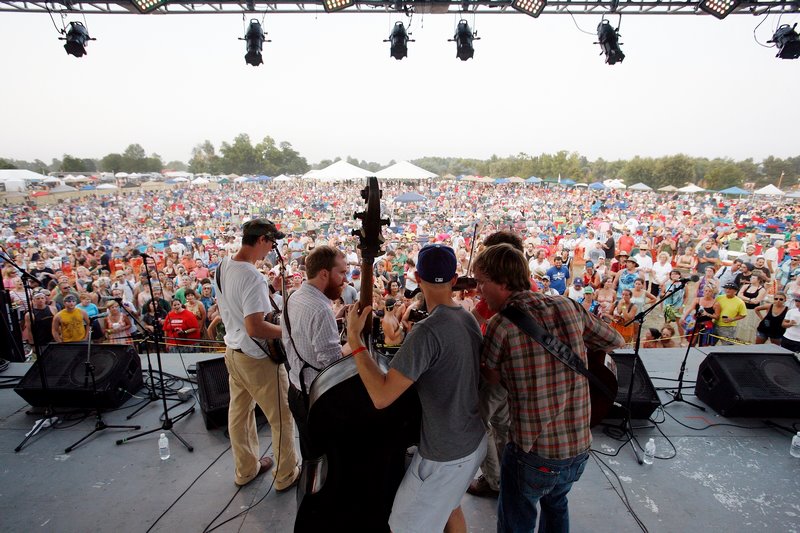 Check out these reviews of the new album, Catch 23!
Michael Johnathan, host, Woodsongs Old Time Radio Hour
"A world class band."
Silas House, bestselling author
"The 23 String Band is the best band to come out of Eastern Kentucky in a long while. Their shows are electrifying, their songwriting is top-notch, and their vocals are as tight as the cork in a jug of moonshine. They're my favorite band from the region."
Eric Russ, Elmore Magazine (May-June 2012)
"Amid a plurality of promising young bluegrass outfits that have emerged in the last few years, the 23 String Band may just be the most exciting. With the release of their second album, the band proves they are not only competent musicians and songwriters, but they also have a knack for finding that perfect cover song. On an album that starts off hot and keeps its foot on the gas until the very last, a rollicking version of John Hartford's "Long Hot Summer Days" quickly becomes the most memorable track on the album, which also features a Tom Petty cover and an original arrangement of the folk standard, "Cripple Creek." Showing that they are clearly as at home in the studio as they are performing live at bluegrass and folk festivals throughout the country, the 23 String Band offers a smattering of lively instrumental tracks that will likely fill their set lists for years to come.
As listeners find their way to the 23 String Band, they will no doubt find themselves mentioning them in the same sentence as other likeminded groups: the Punch Brothers, Old Crow Medicine Show and the Carolina Chocolate Drops. Not bad company."
Al Shusterman, KCBL Radio, California
"This fuel injected project just made a lasting mark on the West Coast radio scene. Their up front style grabs you and won't let you go until you have listened to the entire project. While listening to Catch 23, you never know what's coming next. Whether it is the awesome instrumental work, the superb song selection, or the unique singing, it all fits together like a favorite sweater. It was necessary for me to play this project several times in order to get the full impact of this fine work of art. It just overwhelms you. There were many high points to this project, but the two that stand out are the bass break on Long Hot Summer Days, and the unusual arrangement of Cripple Creek. I can't wait to share this with my listeners."
Michael Powell, LEO Weekly
"While The Avett Brothers are selling out theaters nationwide for high-dollar tickets, it would be pretty easy to catch the 23 String Band around the state for less money and just as much fun. Yes, these local boys employ a very similar approach — a thick concoction of bluegrass, Gram Parsons country, cowpunk (particularly on opener "Ramblin' Around") and what the band describes as "Original Hillbilly Music," though the group seems to stay closer to the source material. Their eponymous debut album features mach-three pickin', ornate fiddle and mandolin arrangements, upright bass and all the elements of traditional, authentic mountain music with a youthful twist. The group unequivocally wears its excitement on its sleeve for all ten tracks, and each song sounds like a blast to see live, which is all that counts in true bluegrass music."
Tiffany Bourne, President, Master Musicians Festival
"The 23 String Band's live show is electrifying. Their performance at the 2010 Master Musicians Festival had the crowd on their feet from the first song to the last. The combination of youthful energy and extraordinary musical ability make for an outstanding performance."
Gabrielle Gray, Executive Director, International Bluegrass Music Museum
"The 23 String Band was one of the most exciting and original bands to play ROMP 2010. We were pleased but totally unsurprised when they surfaced as one of the most-requested bands to return for ROMP 2011."
KDHX Radio, St Louis
How many strings does it take to play bluegrass with a full-on rock 'n' roll spirit? The answer is 23, as in the 23 String Band. Riding the rising tide of eclectic, post-bluegrass, acoustic music, the young, Eastern Kentucky-based band has been hitting the festival scene hard — including appearances at RockyGrass, Bristol Rhythm & Roots and the Kentucky Bluegrass Festival — and developing its own way with a good, traditional melody (check the bluesy feel of "Leave Everything"), furious newgrass instrumental jams ("Catch 23") and clever covers ("Listen to Her Heart," the Tom Petty classic). File this band next to Chatham County Line and the Old Crow Medicine Show, and you might find yourself reaching for them when you need a solid progressive bluegrass fix.
Dave Wilson, Bluegrass on the Bay
Thank you for making our 9th Annual Bluegrass on the Bay so memorable. You guys just made me a hero. Your enthusiasm and expertise were much appreciated. By the way, the song people keep commenting on the most is "Long Hot Summer Days." Of all the songs you did, that apparently was the standout to the crowd. The jam at the end of the evening [with Town Mountain] was one of the most enjoyable it's ever been my pleasure to hear. I was absolutely blown away as was the crowd. Much success to you guys!
Kai Roberts, americanaUK
Within the space of the first three tracks of this album, it's abundantly clear why this cunningly named act claimed the title of Best Band at RockyGrass in 2011. In those three tracks, they do everything a great bluegrass band should do.
They prove themselves capable of writing catchy new material ('Fat Frankie'), adeptly covering a time-honoured bluegrass standard (John Hartford's 'Long Hot Summer Days') and performing the sort of breakneck instrumental that makes you suspect they have extra fingers ('Catch 23'). It's a remarkably strong opening salvo and even if the album doesn't quite match it again, nor does it disappoint.
Although the 23 String Band are unlikely to cut much ice with bluegrass purists, this is pure bluegrass music nonetheless. They're the sort of band who can break the rules only because they already know those rules so well. In this respect, they stand alongside established artists such as Old Crow Medicine Show and the Infamous Stringdusters at the vanguard of forward-thinking string-band music; although they are more technically proficient than the former, less slick than the latter.
Rather than the nasal tenor commonly associated with such music, Chris Shouse's vocals have an urgent, throaty quality, reminiscent of Old Crow's Ketch Secor or even former SteelDriver, Chris Stapleton. His voice is appropriately matched by the band's punchy dynamics and spirited interplay, whilst their instrumental character is distinguished from many of their contemporaries by the double-bass's unusual prominence in the mix, which T. Martin Stam's relentless pulse on the strings more than justifies. Such formal mastery would mean little if it was not in the service of accomplished song-craft, and here the band similarly excels.
The likes of 'Fat Frankie', 'Leave Everything to Me' and 'Hey Pretty Mama' may not quite have what it takes to become future standards, but they are memorable tunes with an individual character. Alongside fine covers such as Hartford's 'Long Hot Summer Days', Tom Petty's 'Listen to Her Heart' and a pleasing rearrangement of the tradition tune, 'Cripple Creek', the album is a pleasure to listen to from start to finish. If they continue to grow musically, they could easily become the next big thing in bluegrass.
Daniel C. Morrison, Alternative Revolt Magazine (Forecastle Fest review)
"It wasn't that oldies stuff I remember and it didn't have that whiny feel that some of the country music artists have. It was a different sound, as if bluegrass finally evolved. I particularly liked the 23 String Band."
Michael Hingston, Country Music People magazine
THE 23 STRING BAND
Catch 23
4 of 5 stars
The string band appears to have had a renaissance in recent years with young musicians updating the traditional style to suit a contemporary sensibility. The success of Old Crow Medicine Show has opened the door for many new acts, but the 23 String Band has the musicianship and originality to allow them to stand out from the crowd. They have already made their mark as winners of the 2011 RockyGrass Band Competition (in Lyons, CO).
The members of the 23 String Band come from various parts of Kentucky and they play a mixture of self-penned material, covers, and traditional songs. They perform a tremendous, lively version of John Hartford's Long Hot Summer Days and the more left-field choice of the Tom Petty song Listen To Her Heart translates very well to this acoustic style. The original songs cover a range of moods. Fat Frankie updates the moonshiner theme to a drug dealer, Leave Everything To Me is a love song with a luscious, sensuous feel, Bees Knees is a jaunty retro jazz song that conjures up the spirit of Al Jolson, and Hey Pretty Mama sounds like an unlikely meeting of REM and Louis Jordan.
The title track includes some fine fiddle playing and is one of a pair of instrumentals, the other being Deer Tick, which has undulating melodic lines that are reminiscent of Nickel Creek. The album is rounded off with a couple of traditional songs: a rendition of Raleigh And Spencer plus a version of Cripple Creek that has been set to a new tune.
Catch 23 is an excellent debut. The playing is good, the vocals sharp and the musical ideas are inventive. Chris Shouse (guitar); Curtis Wilson (banjo); Dave Howard (mandolin) and T Martin Stam (double bass) all do a fine job, but what really marks this band out as something special is Scott Moore's skillful and exhilaratingly inventive fiddle playing."
Walter Tunis, The Musical Box
"Louisville's 23 String Band has become a fast new generation favorite at the Festival [of the Bluegrass]. While the quintet saved material from its soon-to-be-released 23*SB album for its evening set, the band's afternoon outing had members huddled around a single microphone for the playful sighs, shouts and harmonies of "Bees' Knees," the still-dramatic new grass instrumental "Catch 23" and a feverish cover of Tom Petty's "Listen to Her Heart" (in all likelihood, the only tune of the entire four day event to reference cocaine) that led to a blazing solo from the band's sharpest soloist, fiddler Scott Moore. 23 String Band's youthful gusto would have been right at home in a prohibition era speakeasy."
Sarah Hagerman, Steam Powered Preservation Society
"The 23 String Band were new to me going into Folk Alliance, but I was thoroughly won over by the end of their fiery set. Opening with a damning song about pollution in eastern Kentucky waterways marked them as a band with a conscious bent, although they can groove with a grin on a lighter number like the swing-inspired "Bees Knees." I could see them as brothers-in-arms with groups like the Hackensaw Boys. Showing off an impressive range and a charging, commanding presence, I will definitely be checking out more of the 23 String Band."
Brian Bourgoin, Music Director, WCNI Radio, New London, Conn.
"I really like the style and energy—a revival of sorts, moving the music to the modern era without losing the soul. The no-nonsense production lets the band kick back and do some fine picking. I think that is what's so fun about [sophomore album] Catch 23. Hope to see you in New England sometime."
Wildy's World
Album review: Catch 23
Rating: 4.5 of 5 stars
Eastern Kentucky is the home base of The 23 String Band, an acoustic quintet consisting of Chris Shouse (guitar, lead vocals); Curtis Wilson (banjo, vocals); David Howard (mandolin, vocals); Scott Moore (fiddle, vocals) and T. Martin Stam (bass, vocals). In spite of their acoustic approach, the band brings electric energy to modern songs with traditional bluegrass stylings. A live set from The 23 String Band could easily follow a traditional bluegrass tune with a Beastie Boys cover; the unpredictable nature of the band has earned them a significant following in a short time. And their "original hillbilly music" has earned them the respect of bluegrass fans both modern and traditional. The band released Catch 23 earlier this year. The only surprise here is that they haven't received wider acclaim.
Catch 23 opens with "Fat Frankie", the frenetic tale of a small time drug dealer. The dark and urgent modern bluegrass arrangement is compelling, and The 23 String Band has created a classic story song. The violin work of Scott Moore is particularly amazing. "Long Hot Summer Days" features solid, deliberate pick work. Shouse gets soulful on the lead vocal, and there's a distinct blues feel blended into the bluegrass arrangement. "Catch 23" is a dynamic instrumental that breaks out into a jazzified breakdown. Once again, fiddler Scott Moore is a standout. The band is forward and fun on "Leave Everything To Me", an amusing little love song with a memorable melody.
"Listen To Her Heart" is a soliloquy sung to a romantic interloper; an attempt to hold on to the one he loves. The arrangement here is pure gold, with tremendous instrumental interplay and absolutely gorgeous vocal harmonies intertwining throughout. The 23 String Band goes old school on "Bees Knees", getting back to deep bluegrass roots so completely you'll think you're in a time warp. "Hey Pretty Mama" is a tongue-in-cheek come-on song that's fun and entertaining. It's followed by the vibrant instrumental clinic of "Deer Tick". It's the barrelhouse for "Raleigh & Spencer", a prohibition era fiddle tune that's relentlessly entertaining. The band gets real props for their original read on "Cripple Creek", in a rendition that's vaguely reminiscent of the Grateful Dead's version, but has a more lyric feel.
The 23 String Band are a marketer's dream. Riding the high energy of youth, this finely tuned musical machine approaches traditional bluegrass with great reverence, but can also kick out the jams and update their sound to the minute. With the rise of Americana music as an over-arching pop form, it's a matter of time before a band from its ranks breaks out into pop-culture stardom. That band could easily be The 23 String Band, and Catch 23 could be just the vehicle to take them there.
Matt Tackett, Red River Gorge Climbers Coalition
"The 23 String Band tore it up as always and played well into the night, keeping everyone on their feet and truly enjoying this thing we call life."
David Merrell, The Diverse Arts Project
"This friendly and talented group played energetic, musically intricate bluegrass tunes that made me want to stomp my feet and sing along without knowing the words."
Frank Hoppe, KCSN Radio, California
"A tantalizing new Americana release from a talented group of musicians, Catch 23 covers a lot of roots territory with a little something for everyone."
Bluegrass Unlimited
"The 23 String Band is an old-time group that offers up a new twist to traditional music. The ten songs on their debut self-titled album are a blending of public domain numbers and such band originals as "Ramblin' Around," "East Kentucky Water," and "Valentines Love Bouquet." The band's forte is to take numbers such as "St. James Infirmary," "Cluck Old Hen," and "Sleepy Eyed John" and dress them up with fresh new arrangements. The 23 String Band has certainly given old-time music a face lift and this CD should be eagerly sought after by those who are familiar with the band's extraordinary brand of music."
WESU Radio
"Kentucky bluegrass. Edgy. And well done."
Donald Teplyske, The Lonesome Road Review
4 stars (out of 5)
On his very strong new album, Junior Sisk sings, "A Far Cry from Lester and Earl" and I suspect that outfits like The 23 String Band would be among those feeling his wrath for drifting too far from Carter, Ralph, and "the love of a sweet mountain girl." Recent online treatises from Chris Pandolfi and Travers Chandler, reasoned as they are, provide further fuel to a misinterpreted belief that bluegrass must evolve away from itself to survive.
The 23 String Band would most likely find themselves agreeing with those on all sides of the big tent, and would encourage those seeking shelter there to stop talking (and writing) and get pickin'.
Like Joy Kills Sorrow, the Steeldrivers, and the Infamous Stringdusters, the 23 String Band doesn't seem to much care about labels and genre constructs. Rather, their focus is on making music that seems to aggressively poke at the very core of bluegrass before revealing itself to have as much in common with the sound as it does stylistically and atmospherically with popular bluegrass-based acoustiblue bands, the ones that get lumped into the "jam band" category.
None of which would matter if the music didn't hold up to repeated listening. Fortunately, with their sophomore album—and I'll be buying that first album first chance I get—this Kentucky-based group has produced an album that entertains while it challenges.
Singing with bleeding-throat intensity softened by an awareness of bluegrass precision, Chris Shouse is the most obvious place to start when examining the 23 String Band's sound. Always in control, in spots ("Fat Frankie") Shouse pushes his voice while elsewhere—"Leave Everything to Me," for example—he gently swings with an old-timey ease; apt comparisons might be Ketch Secor (Old Crow Medicine Show) and Chris Robinson (Black Crowes).
From first listen, T. Martin Stam's bass and Scott Moore's fiddle provide a depth of texture that one isn't accustomed to encountering on relatively unheralded acoustic Americana releases. Mountain Blues indeed is the term that comes to mind listening to tunes such as "Fat Frankie," "Hey Pretty Mama," and the title track, an extended instrumental.
Everyone in the band receives vocal credit although Shouse takes all the leads. Dave Howard (mandolin) and Curtis Wilson (banjo) more than round-out the band's full-frontal aural attack. John Hartford's "Long Hot Summer Days" is just one of the songs providing ample evidence of Howard's and Wilson's talents: the mid-song instrumental interlude is almost trance-inducing.
With most of the eleven tunes being original, the traditions of the music are further explored through choice covers. "Cripple Creek" and "Raleigh & Spencer" are taken for rides. The obligatory rock n' roll cred-check is provided with a more than satisfactory reading of Tom Petty & the Heartbreakers' "Listen to Her Heart." Why do I always think of Lucinda Williams when I hear that song?
With so much music coming our way, it is often difficult for an album or band to distinguish themselves from the pile. With an affable quality of performance, The 23 String Band has solved their self-defined Catch 23.
Recommended for fans of Chatham County Line, The Earl Brothers, and Acoustic Syndicate, Catch 23 presents an impressive cohesiveness of style that bodes well for the future of the 23 String Band.
Peter Berkowitz, LEO Weekly
Kentucky's 23 String Band seem like a lot of guys we know and love around here — regular dudes with exceptional skill. Their bluegrass attack is fueled by high-octane rock 'n' roll energy, skillfully guided here by [engineer] Kevin Ratterman. A rascally sense of humor also helps distinguish them from some of their peers, dropping in quotes from other songs like jazz musicians and mimicking trains or jugbands or whatever else strikes their fancy. While some exponents of this genre can be overly reverential at times, the Strings are too raucous to settle for easy sentimentality or religiosity; they're more about liquor and girls. The sources of their cover material here — including a John Hartford beauty and an early Tom Petty FM classic — indicate their relaxed attitude, though they put everything into these performances. Author Silas House, a better scribe than I, wrote, "Their shows are electrifying, their songwriting is top-notch, and their vocals are as tight as the cork in a jug of moonshine." And we think you'll agree.