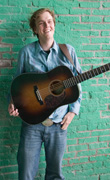 Born into a musical family in the hills of eastern Kentucky, CHRIS SHOUSE began singing and playing guitar around campfires and church revivals. His love affair with mountain music continues to this day; you can hear it in his fine pickin', and above all in his singing. By turns powerful, sweet, and haunting, he's got the kind of voice that'll set your neck hair standing up . . . in a good way! Being one of distinction, you may see Chris with tight rolled jeans, argyle socks, and a band of gypsies following his every footstep.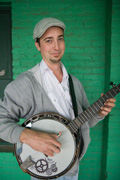 CURTIS WILSON comes from the Cumberland Valley region of Kentucky. His grandma having grown up across the street from Dave "String Bean" Akemon had nothing to do with his decision to pick up the banjo, and although he plays the clawhammer style like String Bean, he also plays the two- and three-finger melodic styles as well. He also has a big share of the band's songwriting. Aside from being the sole voice crying out for Kentucky to cease its involvement with the State Quarter collection, he also moonlights as the lead cut man in the corner of reigning kangaroo boxing champ, "The Captain."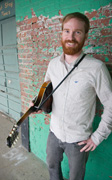 DAVE HOWARD serves as Director of Louisville Folk School, a traditional music education community he founded in 2015, and sits on the board of Bluegrass Anonymous – Louisville's Bluegrass Music Association. Dave studied Art History at University of Louisville and fiddle through a Kentucky Arts Council Masters Apprenticeship Grant for Folk Arts. When he isn't busy pickin the mandolin, he can often be found running joyfully through the woods near his home in the historic Clifton neighborhood of Louisville. He ofttimes has the additional distinction of having the best beard in the room.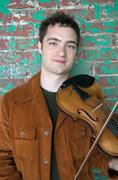 Scotty Moore is a member of the Rock-n-Roll Hall of Fame. SCOTT MOORE is not, but he hopes to be one day. Another Kentucky product of a musical family, Scott started playing violin at age four, writing music at six, and singing since before he can remember. He's been a classical soloist with a number of orchestras, played Bach and Paganini in bars all over the country, and Kentucky fiddle tunes in Carnegie Hall. Music has taken him to five continents. He's played and written music in almost every style you can imagine. He enjoys spicy food and interesting women (or vice versa). He's also been known to climb trees, drive too fast, and streak, but has since cut at least one of those out.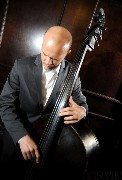 T. Martin Stam is from Chapel Hill, North Carolina — but he makes his home in Kentucky now, so the rest of the boys don't hold it against him. An accomplished bassist, he began his music career at age five, with the violin. Since then he's studied classical and jazz with luminaries from Yo-Yo Ma to Wynton Marsalis, and completed two music performance degrees in the process. He loves all kinds of music, and he's just as likely to bust out a Hank Williams song or old-time fiddle tune as anything else. He's also a triathlete, professional dog-walker, breakdancer, and commando fisherman (it's not what you think). . . .